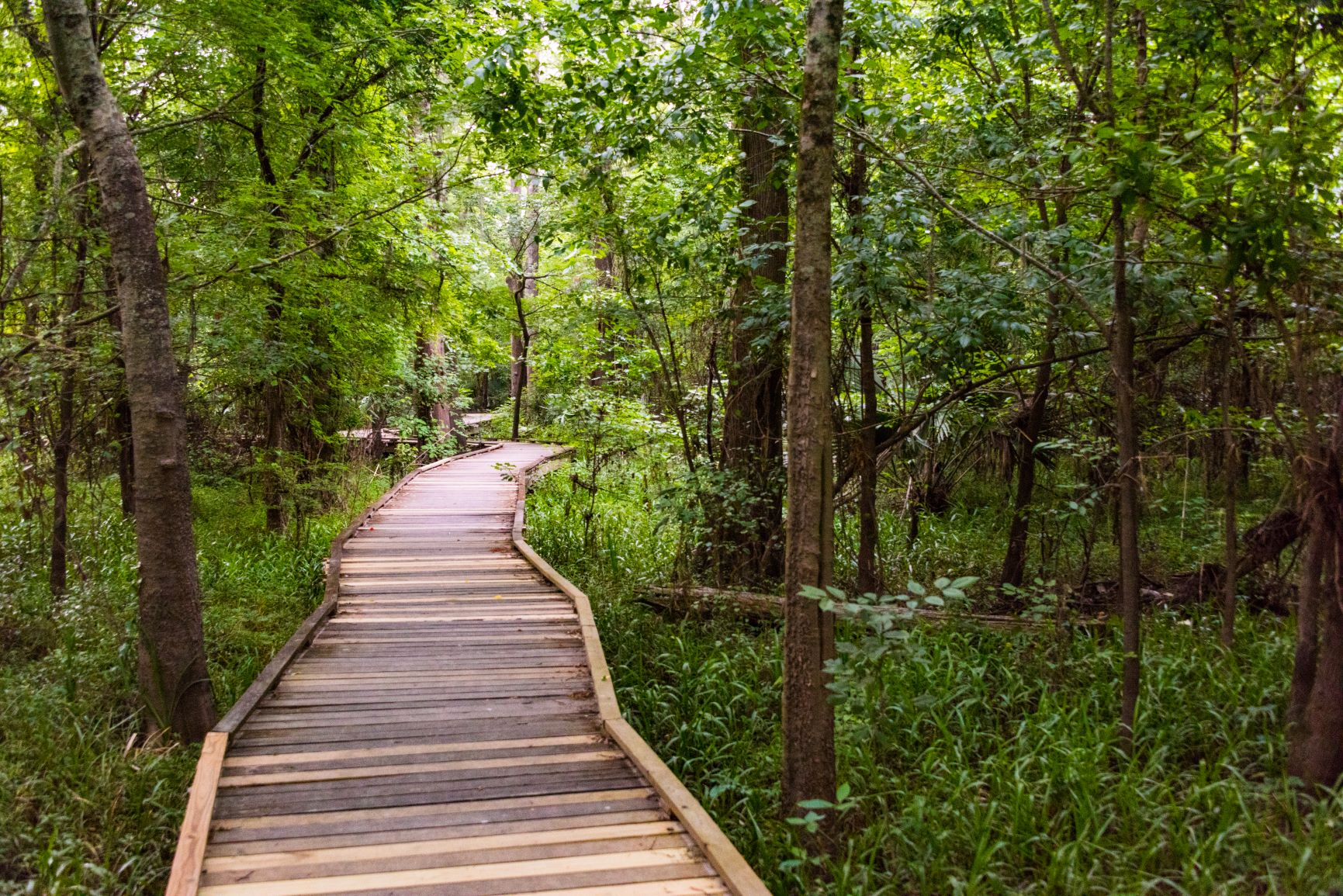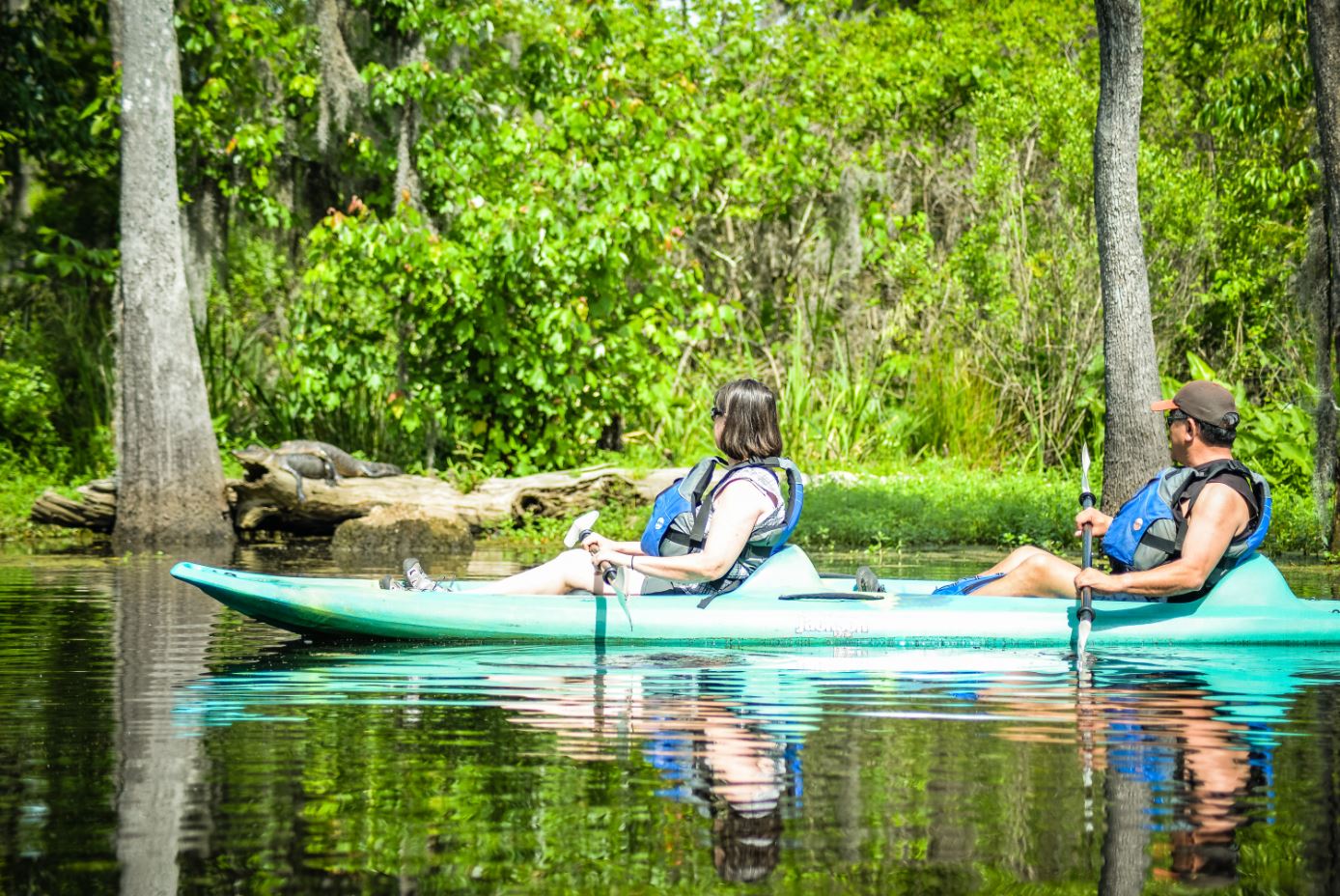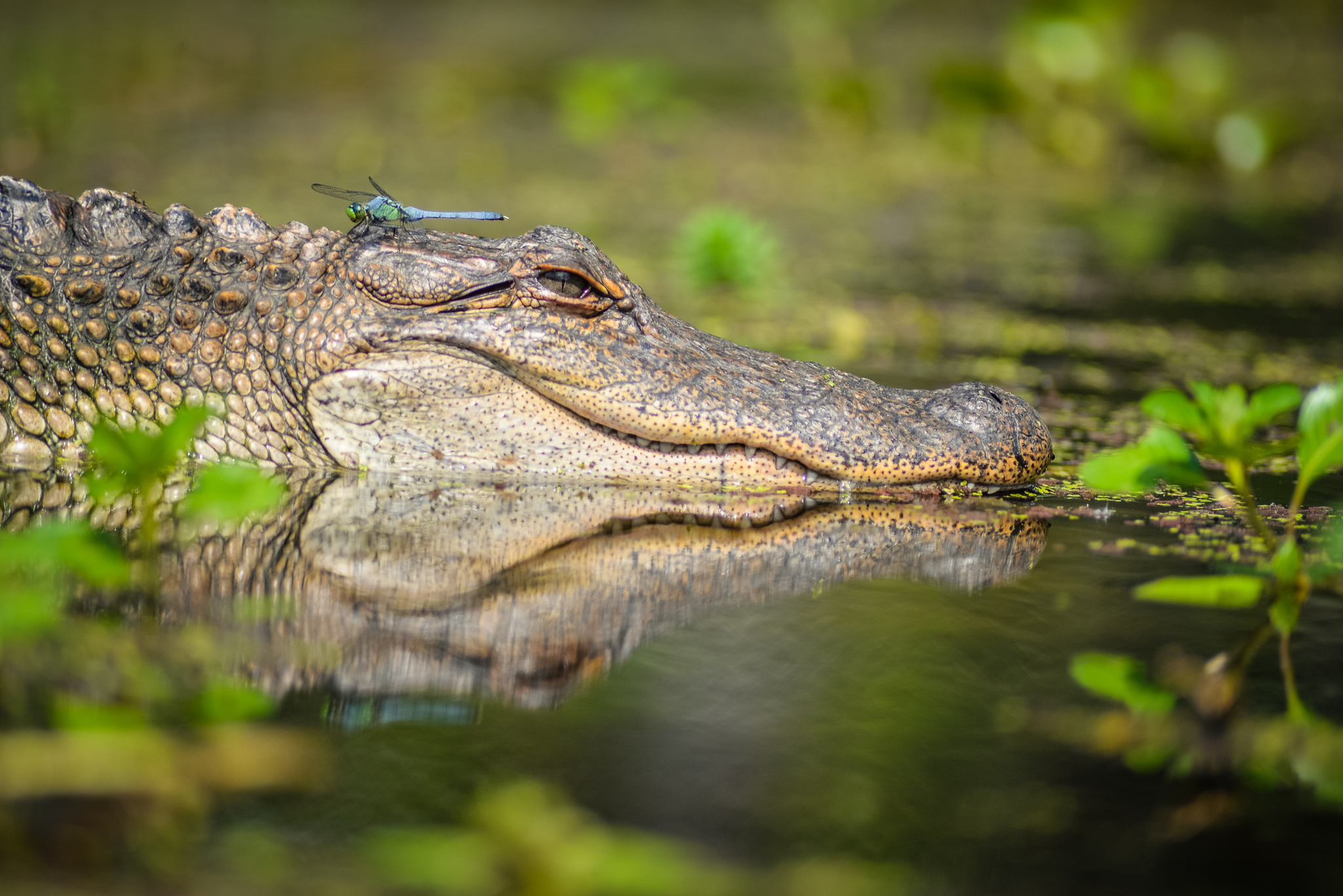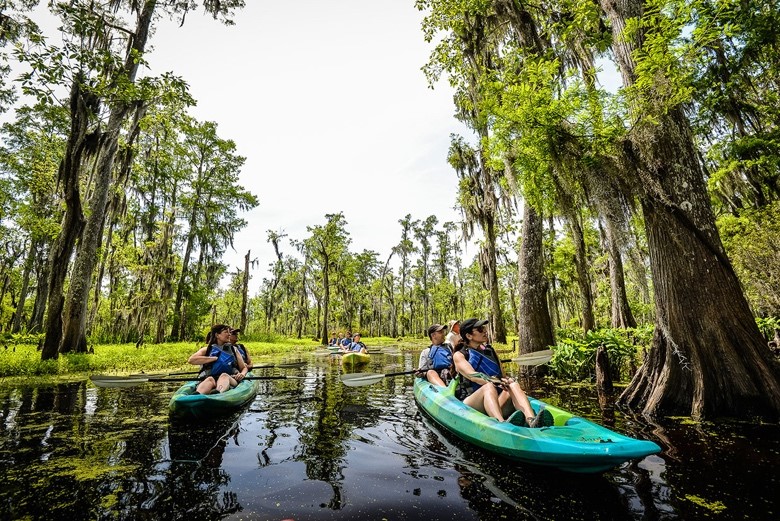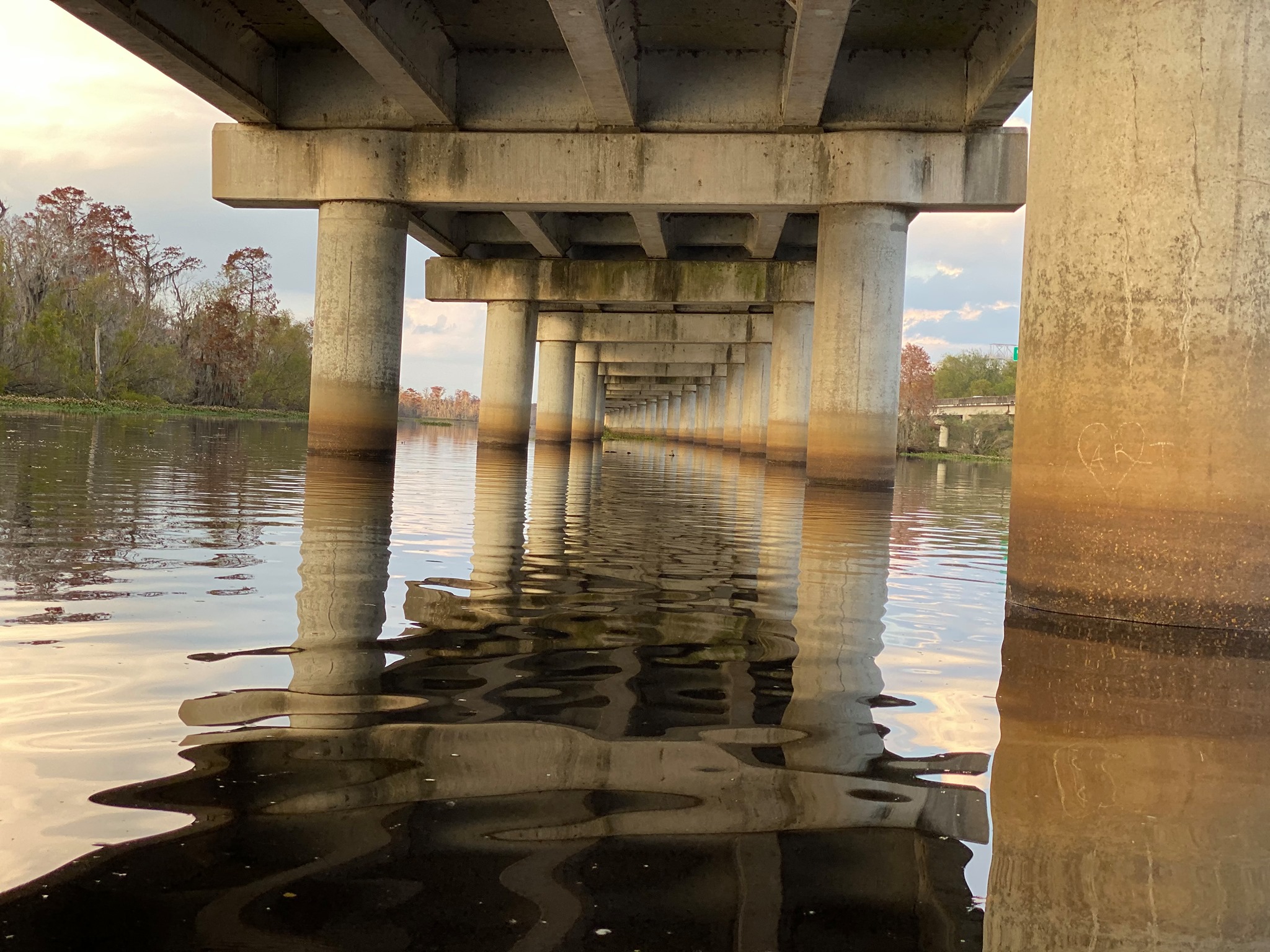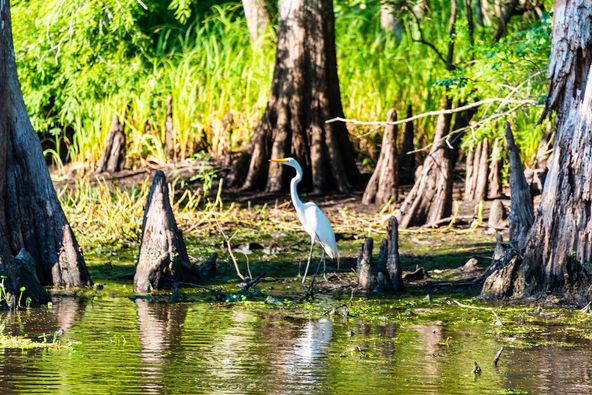 NOPC-Spillway-Spring 2018-2
71182871_10157608809444394_3812959132302966784_o
kayak swamp tour - Louisiana swamp tour - New Orleans swamp tour
Known for plantation history and Cajun culture, Louisiana's River Parishes has a wild side, too.
By: Amanda Ogle
Whether you're wanting to hit the trails on a bike ride, creep through a swamp, trudge through the spillway by ATV, or troll the local lakes and bays for exciting fishing, Louisiana's River Parishes has an outdoor adventure for every type of thrill seeker. An added bonus? You don't have to travel far from plantation tours or New Orleans to find an adventure. "The thing about the River Parishes and the Maurepas Swamp is that you have everything right here together," says Josh Reppel, head guide at Wild Louisiana Tours. "In other destinations, you might find a swamp tour or a plantation tour, but you won't find them both. Here, we have one of the most scenic swamps in the state, right next to the Mississippi River and River Road plantations, all in one location." Take a break from the historic plantation tours and delicious Cajun cuisine and explore the natural beauty of the area. Out here in New Orleans Swamp Country, we'll show you how to enjoy the outdoors, one activity at a time.
Cycling
With 40 miles of paved bike paths, the River Parishes has plenty of places to take a spin. The Mississippi River Trail, on top of the Mississippi River Levee, sprawls through the River Parishes for more than 20 miles.
Swamp Tours
See the beauty of the New Orleans Swamp Country from the comfort of a kayak, airboat, or pontoon. Keep your eyes peeled for sunbathing alligators, egrets wading through the wetlands, and some of the most diverse flora and fauna in the country. Kayaks allow you to get up close and personal as you row through moss-covered cypress trees, and kayak swamp tours are available through Wild Louisiana Tours and New Orleans Kayak Swamp Tours. An airboat tour can take you deeper into the swamp than a standard boat can, and Swamp Adventures offers airboat tours for small or large groups. Airboat tours are also offered through Airboat Tours and Ragin Cajun Airboat Tours. For a swamp tour on a privately-owned swamp, check out Cajun Pride Swamp Tours, who offer small and large pontoon boat tours. To see the largest collection of authentic dugout pirogues that are over 150 years old, check out 2 Da Swamp Bayou Tours and Museum, which includes the artifacts in tours.
Fishing
The River Parishes' three lakes – Lake Pontchartrain, Lake Des Allemands, and Lake Maurepas – plus its proximity to bays and coastal islands mean there is plenty of opportunity to cast a line. Precision Fishing Charters offers anglers the opportunity to fish the area for red drum, black drum, speckled trout, sheepshead, flounder, bull reds, and even sharks. There are numerous boat launches and fishing piers throughout the region as well if you'd like to fish on your own, just be sure to follow local fishing guidelines.
ATVs
Have the need for speed? Ride ATVs, UTVs, and dirt bikes through the Bonnet Carre Spillway in Norco. The 850-acre spillway offers smooth and rough riding trails, and if there's been rain, it's a great spot for mudding. For current conditions on the spillway and to make sure it's open, check with the US Army Corps of Engineers before driving out.
Hiking and Nature Trails
Discover the region's geography and beauty by exploring on foot. A great place for a hike is Wetland Watchers Park, which has some of the most stunning wetlands in the state on 28 acres of donated land. The park has almost a mile of boardwalk nature trails, a ten-foot marsh overlook, and offers visitors a place to explore the wetlands without a boat. The St. James Parish Welcome Center also has a nature trail for exploration.
Zip Lining
Ever wanted to get a bird's-eye view of swamp life? In LaPlace,  Zip NOLA makes it happen with the area's first and only swamp zip line. On the shore of Lake Ponchartrain, see alligators, wild boar, waterfowl, turtles, whitetail deer, and more as you fly across five zip lines and two suspension bridges. The course also includes a spiral tree staircase. Zip lines are situated among century-old cypress trees, and visitors are able to learn about the swamp's ecosystem as well. If you don't want to zip line, an observation deck overlooks the swamp. Zip NOLA was scheduled for a fall opening, but due to weather delays and the pandemic, they are now hoping to be open by the new year.
Manchac Greenway
For years, old U.S. Highway 51 served as a route for fishing, hunting, boating, cycling, hiking, and all types of outdoor pursuits. This road, now called the Manchac Greenway, is a citizen-led effort to protect the swamps and marshes between LaPlace and Ponchatoula and allow the Greenway to grow to its full potential. Multiple projects including a bike trail around Lake Ponchartrain; vegetation management emphasizing native plants; improved fishing, boating, and canoeing access; running and walking trails; park spaces; interpretive displays on area history; building handicap accessible fishing piers; and more are under way to ensure the Manchac Greenway is a haven for outdoor enthusiasts.