So, you've booked a trip to New Orleans and you're excited to experience adventure in the Crescent City – now what? New Orleans Plantation Country is full of the area's unique history, rich cuisine and great attractions just a short trip from the city. Situated in Louisiana's River Parishes, New Orleans Plantation Country is a great place for a New Orleans day trip. Visit any of the plantations, enjoy delicious andouille and kayak amidst beautiful Spanish moss and live oaks. Out here, history meets the outdoors and the adventure is endless.
Go ahead and book a tour out here to New Orleans Plantation Country before you arrive and save money over waiting to book in-person. Most tour packages include transportation to and from the attraction to ensure a stress-free visit. Below are a few highlights of things to do around New Orleans in Plantation Country.
Book a Louisiana Plantation Tour
Each of the historic plantations embodies a unique story that is part of a larger history. Stroll landscapes shaded by live oaks before surrounding yourself in the spectacular architecture. Listen to perspectives of the adversity and triumph to gain an understanding of what life was like for those who lived and worked there.
Explore Nature on a Swamp Tour Near New Orleans
Swamps are a cornerstone of the River Parishes' culture. Spend a day among sunbathing alligators and egrets with a guided swamp tour for a fully immersive and eco-educational experience. For a thrilling swamp adventure, book a tour on an airboat to see the natural beauty of the region. If you're looking for an opportunity for plenty of photos, drift through the Manchac Swamps on one of the pontoon boat tours. Or, get an up-close view by paddling under the Spanish moss on a guided kayak tour.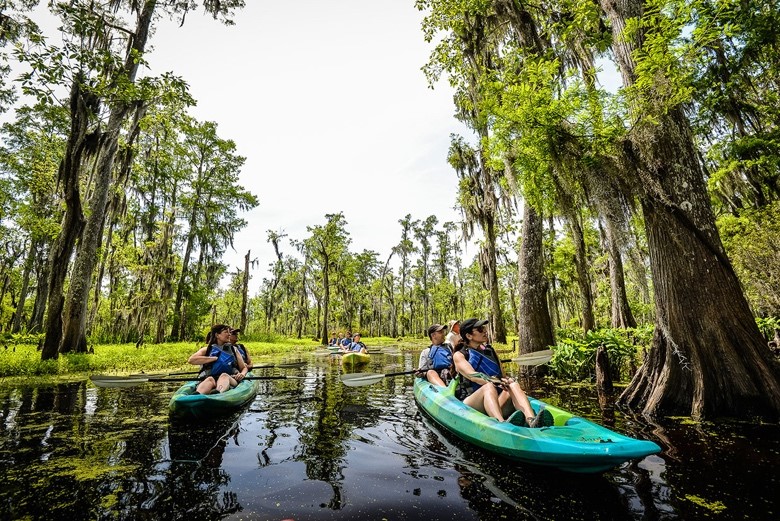 Learn About Our Unique Cajun and Creole Culture
The culture in our area is rich and diverse; as Native American, Spanish, German, African, French, and Creole influences can be seen throughout our region. Visit our YouTube River Reel Video Series that showcases the many cultures of the River Parishes through different characters and attractions you can see for yourself on a tour. From the history of sugarcane and andouille, to traditional Christmas Eve Bonfires, a day trip to New Orleans Plantation Country will give you a taste of #OutHere.
New Orleans Plantation Country is full of rich history and beautiful landscapes outside of the hustle and bustle of the city. Experience our rich south Louisiana culture with a quick visit or stay a few nights at one of our many lodging options – you can even book a stay at Oak Alley Plantation or one of our many hotels to be fully immersed into the region's history.
For more information about New Orleans Plantation Country head to www.visitnopc.com.
Check out the many tours offered in the area and book in advance at plantationcountry.tripshock.com/attractions/state-Louisiana/city-New-Orleans-Plantation-Country/.