Partners,
We know there is a lot of information out there so we wanted to make a quick and easy list for you to review and share with your business partners, employees and friends of many of the resources available to businesses, taxpayers, non-profits, and individuals in our industry. We will continue to update our COVID information page as we get more information.
State of the River Parishes
[Video] 4/17/2020
Governor's new Phase 3  order [Download] 3/2/2021
New Phase 3 guidance on OpenSafely.la.gov. [Download] 3/2/2021
CORONAVIRUS RESOURCE PAGES
US Travel CARES Act Toolkit – useful, tourism and hospitality focused information. Specifically the SBA Economic Injury Disaster Loan (deadlines apply), Paycheck Protection Program, and tax deadline extensions.
Louisiana Travel Association COVID Resource Page –  complete guide to all available resources
Coronavirus Resource Center from Postelthwaite & Netterville – a categorical breakdown of resources available to taxpayers, businesses, non-profits, and government agencies.
MAJOR GOVERNMENT ASSISTANCE FOR BUSINESSES
New grant opportunity for venue operators impacted by pandemic
SBA Express Bridge Loan Pilot Program
COVID-19 Economic Injury Disaster Loans and Loan Advance
Submit CARES Act questions to USTA
US Department of Labor guidance on expanded family and medical leave
USTA Playbook: Crisis Readiness and Response
INDIVIDUAL AID –
Unemployment Insurance – State of Louisiana Unemployment information – CARES Act added $600/week for those eligible
Hospitality Cares Pandemic Response Fund – The fund will provide crisis grants to hospitality workers who are unable to afford basic financial needs during the COVID-19 outbreak.
Restaurant Employee Relief Fund  – restaurant industry employees experiencing hardship in the wake of the coronavirus disease (COVID-19) outbreak
James Beard Food & Beverage Relief Fund – To qualify for funding, a restaurant must be (i) independently owned with 100 or less full- or part-time employees as of February 15, 2020, or (ii) a restaurant group in which each member restaurant has 100 or less full- or part-time employees on that date.
Greater New Orleans Foundation Service and Hospitality Family Assistance Program – $1,000 grants for service-industry workers who lost their jobs because of the coronavirus shutdown
Bartender Emergency Assistance Program (BEAP) – up to $2,500
Restaurant Workers Community Foundation – individual grants and business loans
Trusted Website and Social Media Links:
Visit our Taste the River Parishes page for daily updates on open restaurants in our area.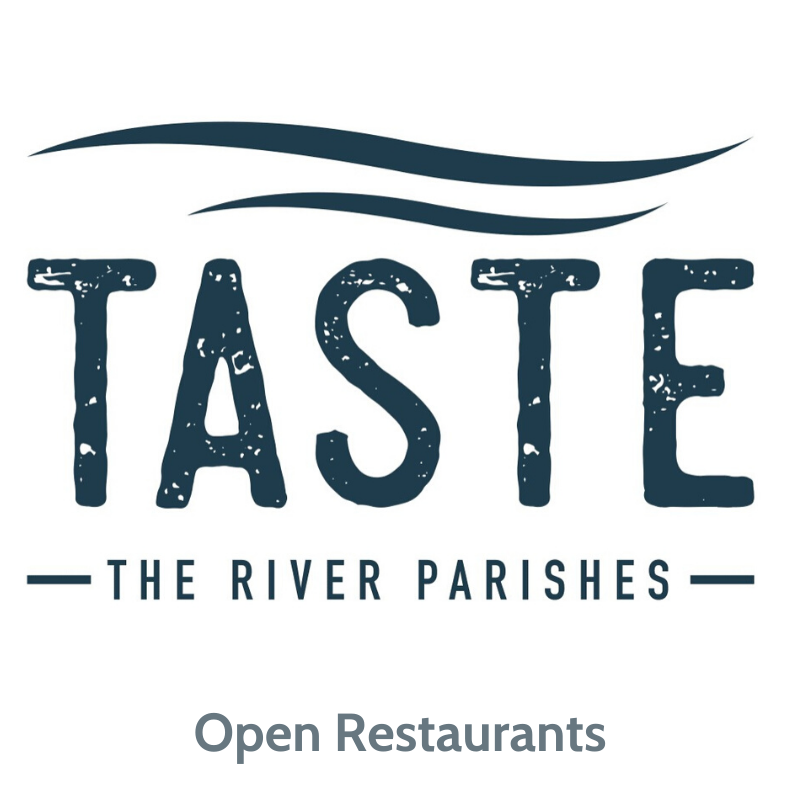 Best practices:
Many of our large Accommodations receive guidance from corporate as to the proper sanitization and disinfecting protocol during times like this. For others, follow CDC guidance located here. Ensure you clean items including (but not limited to): door handles, telephones, toilets, light switches, remote controls, blowdryers, HVAC controls, faucet handles, and other surfaces frequently. Link to ECOLab's full guidance for Hospitality [download PDF].
Restaurants may consider moving items touched by consumers to behind the counter. This keeps customers from touching multiple cups, coffee lids, straws, utensils, and other items and the potential spread of germs where multiple items are handled. By handing one to a customer it may help the spread of germs. Also offering a separate new cup for a refill may be feasible. A link to ServSafe's Coronavirus information is located here.  More resources as they become available for restaurants by the National Restaurant's Association are online at this link. ECOLab has industry-specific information online here. Link to Restaurants [download PDF]; link to Hospitality [download PDF]; link to Food & Beverage Industry [download PDF].
Airbnb and VRBO
–Airbnb and VRBO Guidance for hosts and guests.
Posters:
There are a number of informational posters for Coronavirus on the CDC's website here. Two that you may want to display for your employees can be downloaded below.
General guidance:
The best way to prevent illness is to avoid being exposed to this virus. As a reminder, the Department of Health always recommends everyday preventive actions to help impede the spread of respiratory diseases, including:
Avoiding close contact with people who are sick
Staying home when you are sick and avoiding contact with persons in poor health
Avoiding touching your eyes, nose, and mouth with unwashed hands
Covering your cough or sneezing with a tissue, then disposing of the issue
Washing your hands often with soap and water for at least 20 seconds, especially after going to the bathroom, before eating, after blowing your nose, coughing or sneezing
If soap and water are not readily available, use an alcohol-based hand sanitizer with at least 60% alcohol. Always wash your hands with soap and water if hands are visibly dirty
Cleaning and disinfecting frequently touched objects and surfaces using a regular household cleaning spray or wipe