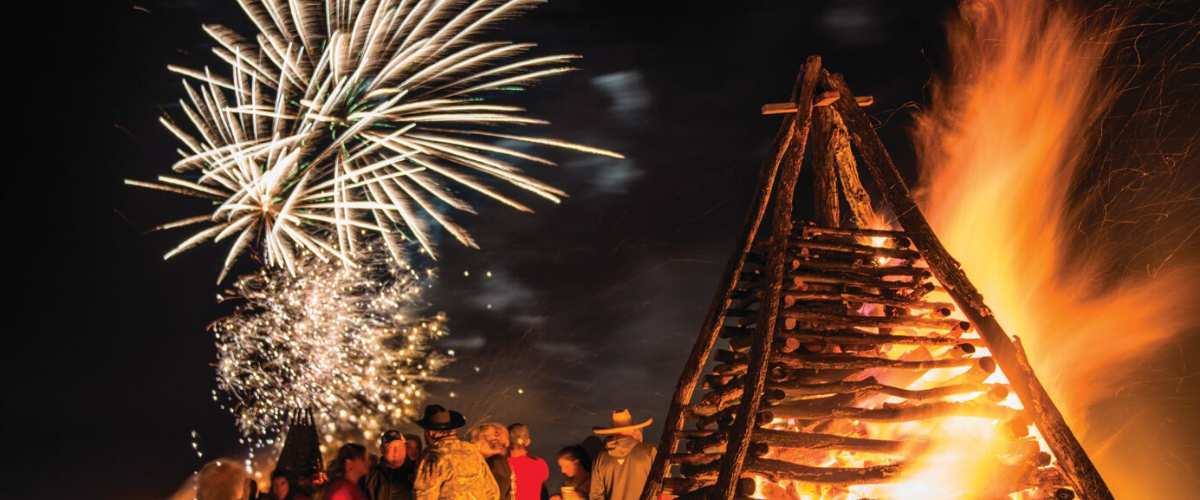 History of Bonfires
Located along the mighty Mississippi River, this tradition's humble beginning was originally a neighborhood or family-oriented activity. Now thousands of visitors from all walks of life visit these bonfires every year! Dating back to the early 1700s, French and German settlers brought with them a variety of traditions. One being Bonfires has turned into a mega celebration that has grown bigger over the years. [Read More]
FREE Visitor Shuttle
4:00 PM – 10:00 PM
Shuttles Sponsored by the:
River Parishes Tourist Commission
Fireworks
6:50 PM
Bonfires Lit
7:00 PM
---
Driving Directions
If you are interested in driving through, take LA 3213 to LA 44 (Exit before crossing the bridge) OR LA 18 (on the other side of the River). Once facing the Mississippi River Levee, take a right or left…you'll see bonfires on the top of the levee for miles in either direction!
From New Orleans, Take I-10 West to Lutcher-Gramercy Exit (194), Make right on LA Hwy. 3125 to LA 641 (Main Street) to Parking Location (Lutcher High School).
From Baton Rouge, Take I-10 East to Gramercy Exit, Travel South on U.S. Hwy 61 (Airline Hwy.) to LA Hwy. 3274 (approx. 7 miles on right)to (Main St) LA Hwy. 641 to Parking Location. (Lutcher High School).
---
How to Construct Bonfires #outhere
Over the years, Bonfires have taken on many different shapes. However, the traditional shape of the bonfire is a pyramid or tepee shape. These structures are made up of dry woods, cane reeds, and other materials. To learn more about the construction of Bonfires [Click Here]
Stay #outhere, and book lodging with ease at one of our affordable Hotels or Bed and Breakfasts. [Click Here]
Creole Surgarland Tours
Visit Creole Sugarland Tours, a newly established tour focusing on Creole traditions including the building of the bonfires. Every day throughout December, visitors can learn about these structures while witnessing a first -hand demonstration of how they are created. Come on Saturday evenings to experience the lighting of a bonfire along with live music. Make sure to grab a plate or bowl of their popular Creole dishes including jambalaya, gumbo, red beans, and sugarcane hot chocolate! For more information about the Creole Sugarland Tours [Click Here].
Subscribe to our E-Newsletter to stay updated on Bonfires and other events that are in the River Parishes.
Start Planning. PICK AN ITINERARY.
START BOOKING. FIND THE RESOURCES YOU NEED.
STILL Have Questions? Drop us a line AND REQUEST A VISITORS GUIDE.